If you are having difficulty viewing this message, click here to read it online.
April 2019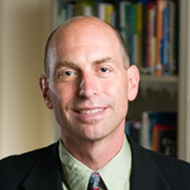 Dear Colleagues,
As I write this our team is gearing up for the 14th Annual Innovators Roundtable, an event that always proves to be a catalyst for great conversations and collaborations! We have a phenomenal set of speakers  and presentations lined up, as well as numerous opportunities for discussion and networking.  We are working closely with our host, Procter & Gamble, to ensure an engaging and productive meeting.
The Roundtable is highly effective because it draws chemistry and sustainability professionals from across sectors and the global supply chain, giving them a unique opportunity to network and share ideas. Last year's Roundtable event sold out in advance and we're certain that it will sell out this year too, so please be sure to register soon to secure your seat at the table! Also, please join us the day before the Roundtable at our 4th Annual Technology Showcase to see 10 cutting edge, innovative companies presenting their products and services to meet the technology needs of our members.
In other news, in January I traveled to Brussels with Sally Edwards, GC3's Director of Retailer Engagement, where we facilitated a multi-stakeholder meeting on incentivizing chemicals innovation and adoption of safer chemistry across supply chains, hosted by the European Commission's Directorate General for the Environment.  We had very productive meetings with colleagues from both GC3 and non-GC3 companies, government agencies, and research institutes.  Those conversations validated our assumptions that European companies face challenges similar to ours here in North America, and they too can benefit from our collaborative efforts to discover and implement new green chemistry solutions. As a result, we hope to initiate activities in Europe in the coming year.
We hope to see you in Cincinnati this May!
Sincerely,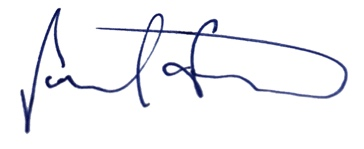 Joel Tickner
Executive Director, GC3
Member Spotlight: Checkerspot
Founded in 2016 as a public benefit corporation, Checkerspot is a high-performance materials company that designs materials at a molecular level. They do this by optimizing natural microbes to biomanufacture unique structural oils discovered in nature, but not previously accessible commercially. Their first materials are next generation polyurethanes and textile coatings/finishes designed to improve the performance of consumer products. Checkerspot seeks to work with partners that share their vision and will join them in creating new high-performance materials that also address some of humanity's current challenges, including climate change, supply chain sustainability and a move away from unsafe chemicals.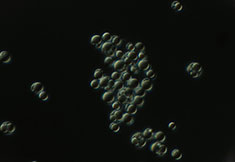 Checkerspot joined the GC3 in 2017. "Being part of the GC3 community gives us access to a large network of companies, people, and investors who share our values and commitment to a better, safer future," said Nina Reyes, Sr. Research Associate, Molecular Biology & Communications Manager at Checkerspot. "Since that great opportunity at the GC3 Roundtable, so many good things have happened at Checkerspot; we signed our first JDA and expanded our partnerships, and closed our seed funding. We anticipate more exciting news ahead!" added Reyes. 
Photo Caption: A bright field image shows the accumulation of large oil droplets forming within individual micro-algae cells.
14th Annual GC3 Innovators Roundtable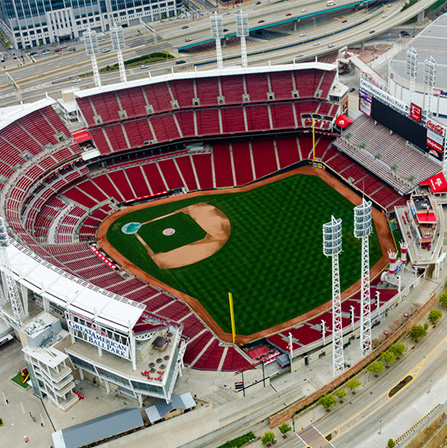 Just One Month Away until the 14th Annual Innovators Roundtable!

Hosted by P&G, North America Fabric Care on May 7-9, 2019 in Cincinnati
Space is limited and filling up -- register now!
This two-and-a-half-day forum is simply the most effective way to exchange strategies and best practices in green chemistry innovation and adoption. Over 200 professionals from across supply chains and sectors gather to network, create new partnerships and promote collaborative projects. Our venue in the great city of Cincinnati is the Great American Ball Park, home of the Cincinnati Reds. Learn more about Cincinnati attractions here!  The full agenda is available online.

Here are Some Can't-Miss Sessions…
Circular Economy & Green Chemistry
Taking Action on Paint Strippers: Retailers and Suppliers Report from the Field
Green Chemistry: The View from the Middle of the Supply Chain
Models for Advancing Green Chemistry Innovation: Collaborative Innovation, Open Innovation, Incubators & Accelerators
Attendance is limited and last year's event sold out in advance, so please don't wait; register today!
4th Annual GC3 Technology Showcase
The GC3 Startup Network's 4th Annual Technology Showcase will take place on May 7, 2019, in Cincinnati, OH. The Showcase will kick off with a behind-the-scenes look at green chemistry applications across P&G's various businesses, to highlight P&G's research and development team and give attendees a chance to network with these leading innovators.
The 10 finalist startup companies selected from the Technology Showcase competition will pitch their chemicals, materials, products, and manufacturing technologies to investors and large strategic companies. On May 8, three of those finalists will pitch their solutions to a panel of investors and technology scouts on the main stage at the GC3 Innovators Roundtable.
Our panel includes the following experts:
Stephen Crawford, Senior Vice President and Chief Technology Officer at Eastman
Martin Mulvihill, Partner at Safer Made
Peter Nieuwenhuizen, Chief Technology Officer at Nouryon (formerly AkzoNobel Specialty Chemicals)
Separate registration for the Technology Showcase includes the P&G showcase, coffee, snacks, presentation sessions and evening networking reception. Note, attendance is limited and all attendees must be registered in advance.
News About Collaborative Innovation: Plasticizers Workshop Hosted by Target
In early March the GC3 kicked off a new Collaborative Innovation initiative on plasticizers, at a workshop hosted by Target at its corporate headquarters in Minneapolis. The goals of the interactive workshop were to 1) assess market drivers for adoption and innovation of safer, more sustainable plasticizers; 2) learn about safer alternatives available in the marketplace and experience in adoption; and 3) identify collaborative GC3-led activities to advance adoption and innovation of safer alternatives.
Attendees represented companies from throughout the value chain, including plasticizer suppliers, compounders, and companies that produce and sell products containing plasticizers such as carpet, resilient flooring, building wire and cable, architectural products, apparel and footwear, adhesives and sealants, and electronic products. Participating companies included 3M, BASF, Best Buy, Construction Specialties, Eastman Chemical, Emerald Kalama, ExxonMobil, Dell, Galata, HP, Kingfisher,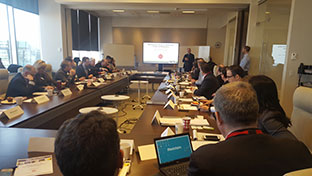 Lowe's, Mexichem, Nike, remooble, Superior Essex, Target and Tarkett. The following organizations also participated: Environmental Defense Fund, HPD Collaborative, Northwest Green Chemistry, the Toxics Use Reduction Institute and ToxServices. Mohawk, PolyOne, and Teknor Apex are involved in the plasticizers initiative, but were not able to attend.
Participants provided excellent ideas for collaborative projects and found significant value in the candid viewpoints offered by companies from all points in value chain. The GC3 is now shaping a set of proposed projects that we will discuss at the GC3 Innovators Roundtable in May. For more information, contact Monica Becker.
Photo caption: Cuan Hanly, VP Product Development at Target welcomes the GC3 Plasticizer Workshop participants.
Building Green Chemistry Connections in Mexico, Central & South America
Does your company have research or operation offices in Mexico, Central or South America? The GC3 has been awarded a grant from the International Sustainable Chemistry Collaborative Centre (ISC3) to be the America's hub for their work including the development of a startup service and network. The initial phase includes identification of contacts (startups, larger companies, accelerators, investors, etc.) in Mexico, Central and South America.  If your company has research or operations in the region, we'd greatly appreciate your guidance and connection to colleagues for the regional and corporate benefit of connecting companies and resources to bring green chemistry to market. Contact Julie@greenchemistryandcommerce.org.   
Products with Purpose: The Living Product Challenge
Tuesday, June 20, 2019 | 12:00 PM - 1:00 PM EST
The Living Product Challenge is a holistic framework for rethinking the way we manufacture products. With an emphasis on transparency and creating measurable net positive impact, the program was created to synthesize complex multi-attribute data, including social justice and equity, into a unified tool for responsible material creation and selection. 
In this webinar you will learn about the program and hear how manufacturers of Living Products have changed their products, their facilities, and their ways of thinking.
Presenter:
Alexandra Muller, Manager, Living Products, International Living Future Institute
We're pleased to welcome the following companies as new members of the GC3!
Emerald Kalama Chemical
Evolved by Nature
Grove Collaborative
MaterialWise
NikWax Limited
Smarter Sorting
If your company is not yet a member, join us today!
We Want to Share Your Good News
We love to share the progress of our member companies!
Please send us any public press releases or announcements that you would like to share.  You may also share it directly with us via our Facebook, Instagram, Twitter or LinkedIn sites.
For more information on the work of the GC3, email us or call 978-934-2997.