Advancing Green Chemistry Education
Purpose
The goal of the Advancing Green Chemistry Education project group is to embed green chemistry in academic and professional education across supply chains to build a field of professionals with a strong understanding of the nexus between chemistry, product design, and sustainability. 
Current Initiatives
The group is developing a webinar-based green chemistry and safer alternatives training curriculum that can be offered to GC3 members and other companies.  The group outlined the training needs of different job categories as well as the components of a training program.  It includes webinars and supplemental information.  Most of the training curriculum is available on the GC3 website.  The remaining trainings are expected to be completed in 2016.
Background
The vast majority of chemistry students receive little or no education in how chemical design may affect health or sustainability.  Similarly, most industrial chemists, designers, and business managers have received little training in green chemistry, toxicology, lifecycle evaluation, or sustainability. For green chemistry to thrive, there is a need for professionals who are well-educated in green chemistry concepts, including green chemical design, toxicology, lifecycle evaluation, and environmental policy.  The lack of such education can present a barrier to advancing green chemistry within firms and supply chains, especially when price and performance may take precedent over environmental impacts.  Companies increasingly want chemists, engineers, designers and business managers who have sustainability knowledge.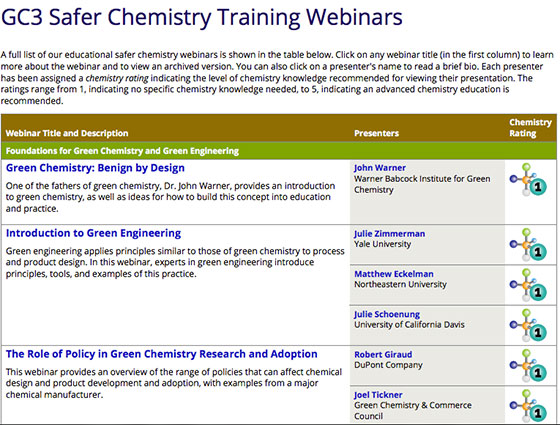 Resources
Chemistry: Green refill – Manufacturers are snapping up chemists who can make their products more environmentally friendly.

Steelcase Advanced Green Chemistry Modules - A GC3 member company, Steelcase has partnered with Beyond Benign to develop a set of 3 green chemistry modules for high schools highlighting sustainable technologies integrated into their products and processes.
Careers in Green Chemistry - Professionals working in different sectors of industry discuss how they got to where they are, how they use green chemistry, and what they would recommend to early-career scientists seeking careers in the field.
Speakers:
Cory Robertson, Environmental Chemist, Hewlett-Packard
Kristi Budzinski, Green Chemistry/BioPharma ProgramManager, Genentech
Drummond Lawson, Environmental Chemist, Arc'teryx
Speakers:
Irene Erdelmeier, Organic and Medicinal Green Chemist, Co-founder of Tetrahedron, France
Teresa McGrath, Environmental Regulatory Toxicologist, Valspar
Jon Smieja, Environmental Chemist, Global Sustainability, Steelcase 
Speakers:
Christoph Krumm, Co-founder and CEO, Sironix Renewables
Linda B. Sedlewicz, President/CEO, schülke Inc.
Maureen Kavanagh, Senior Technical Manager, 3M
Additional GC3 Webinars
Additional GC3 Publications 
Past Accomplishments
GC3 Policy Statement on Green Chemistry in Higher Education, an industry "policy statement" in support of green chemistry education at the university level and in continuing education.  The statement includes commitments: (1) to support green chemistry education and research in higher education across disciplines, within the firm and through the supply chain; (2) to hire new professional staff with training in green chemistry and sustainability all other aspects equal; and (3) to embed green chemistry in product development and sourcing.
The GC3 would like to expand the list of signatories, using the statement as a tool to conduct outreach with policy makers, university administrators, and research agencies to reiterate the GC3 support for chemists and other professionals trained in green chemistry and safer alternatives.
Contact
For more information or to join the project group, contact Saskia van Bergen.
Upcoming call information, call notes, and working documents are available to members
in the GC3 Members Area.
Become a Member to gain access to the GC3 Members Area.