The Green Chemistry & Commerce Council is a multi-stakeholder collaborative that drives the commercial adoption of green chemistry by catalyzing and guiding action across all industries, sectors and supply chains.
Retailer Leadership Council
Supply Chain Working Group
Sustainable Chemistry Alliance
Latest GC3 News:
2023 GC3 European Forum: Registration is open!
The 2023 GC3 European Forum gathers stakeholders to discuss how supply chain collaboration and partnership can help accelerate green and sustainable chemistry's growth and implementation throughout the value chain. Responding to increasing pressures from the European Green Deal, investors, and market forces, GC3 will convene representatives from global companies, consulting firms, governments, and non-governmental organizations for a two-day meeting exploring both the challenges and opportunities to advance safer and more sustainable chemistry in Europe.
This year's European Forum will be hosted by Covestro in Leverkusen, Germany on June 13-15, 2023.
LEARN MORE


October 2022: Lessons for Green Chemistry Commercialization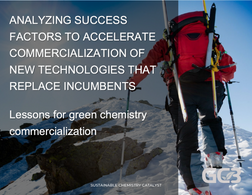 The Sustainable Chemistry Catalyst at the University of Massachusetts Lowell produced a report commissioned by GC3, "Analyzing Success Factors to Accelerate the Commercialization of New Technologies that Replace Incumbents." Through a series of four case studies, coupled with research and expert interviews, the report reveals practical insights and strategic lessons to quicken the diffusion of green and sustainable chemistry technologies into the marketplace. Knowing these accelerating factors will be a critical piece of the puzzle to support the continued shift and transformation towards safer more sustainable solutions.


GC3 Launches 2021 Year in Review
The Green Chemistry & Commerce Council (GC3) is pleased to announce publication of its Annual Year in Review. The report highlights GC3 and GC3 member accomplishments as we work to accelerate the growth of green chemistry solutions. Come join us as we work to change chemistry!


Report (November 2021):
Green Chemistry: A Strong Driver of Innovation, Growth, and Business Opportunity
As investors and manufacturers seek new market opportunities for growth in the chemical sector, one of the portfolios attracting attention is the expanding portfolio of green chemicals—chemical products and processes that reduce or eliminate the use or generation of hazardous substances from manufacture through disposal. While green chemistry has traditionally represented a very small segment of the broader chemistry industry, there is emerging evidence that this segment is poised to grow rapidly. In this report, we examine the business case for investment in green chemistry on the part of manufacturers, retailers, brands, and R&D teams. We present compelling evidence through a multi-method approach, relying on case studies, consumer product sales trends, economic value-added analysis, and prior research that suggests the green chemicals and products sector is growing rapidly and will likely become a dominant element of major investment portfolios in the near future.
GC3 Members