Events
GC3 offers events throughout the year focused on building the network to accelerate the development and adoption of green chemistry in the market. The GC3 Startup Network's primary event is the Annual Technology Showcase where selected startups present their green chemistry materials, products, and/or manufacturing technologies to investors, major brands and manufacturers.
Annual Technology Showcase
Startups are selected to present in front of GC3 members, investors and major companies. The format is subject to change each year.
4th Annual GC3 Startup Network Technology Showcase (2019)

Presenting startups:
Akron Ascent Innovations
Colorifix Limited
Defunkify
EmulGreen
Genecis Bioindustries Inc.
Iron Shell Material Technologies
Magnomer
Performance BioFilaments Inc.
Visolis, Inc.
VivaVax Inc.
Press releases:
The GC3 Announces Three Winners in the GC3 Startup Network's 4 th Annual Technology Showcase 
The GC3 Announces 10 Semi-Finalists in GC3 Startup Network's 4 th Annual Technology Showcase


3rd Annual GC3 Startup Network Technology Showcase (2018) 
Presenting startups:
ACTICELL GmbH
Advonex International Corporation
Checkerspot, Inc.
Novomer, Inc.
Solugen, Inc.
SusTerea Biorenewables LLC
Tandem Repeat Technologies
Tethis, Inc.
xF Technologies Inc.
Press release:
GC3 Announces Call for Applications for 2018 Startup Technology Showcase
2nd Annual GC3 Startup Network Technology Showcase (2017) 
Presenting startups:
Elevance
Grow Bioplastics
Hybrid Coating Technologies
IMD Naturals
CBiRC (Iowa State University)
Kalion
Lumishield
Paxymer
Poly6
Sironix Renewables
Sylvatex
1st Annual GC3 Startup Network Technology Showcase (2016) 
Presenting startups:
Aequor, Inc
Amyris, Inc
Biosynthetic Technologies
Connora Technologies
GF Biochemicals
Mango Materials
P2 Science, Inc.
Renmatix
Rennovia
Resinate Materials Group


Networking & Related Events
The GC3 Startup Network hosts events throughout the year, in addition to the Technology Showcase).  See below for a sampling of the events:
GC3 Reception at the Green Chemistry & Engineering Conference
June 10, 2019, Reston, VA
GC3 Networking Reception @ Greenbuild 2017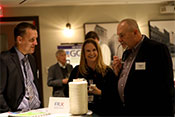 November 7, 2017 in Boston, MA
Over 100 people -- GC3 members and affiliates -- joined us for an invitation-only event for Greenbuild in downtown Boston, on November 7 at 7:30 pm. We showcased six green and bio-based chemistry startups and small companies with technologies relevant to the building sector.
Workshop on Leveraging Partnerships to Accelerate Green & Bio-Based Chemistry Innovation
February 1, 2017 in San Francisco, CA
Hosted by Levi Strauss & Co
Twenty six startups, 20 large companies and investors, over 80 people total participated in a one-day workshop and networking event in San Francisco focused on partnering and investing.
View the program and participants
Webinars
GC3 presents webinars on a regular basis on a wide variety of subjects related to green chemistry, alternative assessments, case studies, and essentials to bring products to market. Click here to view archived webinars.